Dermal Fillers in Scranton, PA
What Are Dermal Fillers?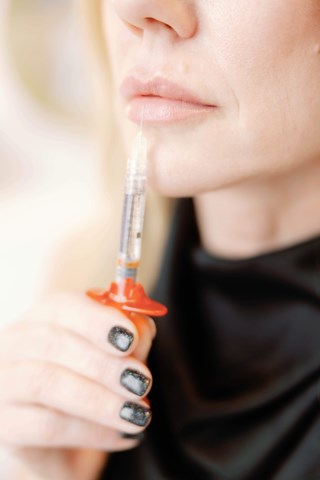 Dermal fillers are often injected to replenish lost facial volume and fill in wrinkles and lines. The face can lose volume for various reasons, but age and significant weight loss are commonly to blame. The procedure works by injecting a liquid (the dermal filler) beneath the skin to fill the areas that appear sunken or hollow. Fillers are a great, minimally invasive alternative for Scranton, PA men and women wanting to even out fine lines, sagging skin, and/or wrinkles to create a more youthful appearance. Dermal fillers can also be added to other aesthetic procedures to provide the benefits of a facelift without going under the knife, experiencing the risk of scarring, or dealing with the required downtime that follows. To decide which injectable filler(s) may be right for you, we encourage you to visit NABI Medical Aesthetics, where Dr. Michael Klingerman or a member of his team can help you learn more.
What Dermal Fillers Do You Offer?
At NABI Medical Aesthetics, we offer the following injectable dermal fillers:
RHA®: Treats moderate-to-severe nasolabial folds, wrinkles, and lost volume
Restylane®: Helps deliver a softer and more supple look
Revanesse® Versa™: Best for diminishing fine lines and wrinkles on the mid-face and adding plumpness to hollow areas like the cheeks or lips
Belotero Balance®: Most effective on lines around the lips and mouth
Radiesse®: Treats mild and moderate lines and wrinkles throughout the face
RHA, Restylane, Revanesse Versa, and Belotero Balance are hyaluronic acid-based fillers, while the acting ingredient in Radiesse is calcium hydroxylapatite.
How Do Dermal Filler Injections Work?
Before your treatment, Dr. Klingerman or a NABI Medical Aesthetics team member will consult with you to gain insight into your desired results and determine what product may best achieve them. At the time of the actual procedure, your aesthetician or Dr. Klingerman will use topical numbing cream as an anesthetic to make the injections as pain-free as possible. They will decide the amount of filler that is necessary for your aesthetic goals and will gradually and evenly inject it through a small needle.
NABI Medical Aesthetics Reviews
My close friend recommended Nabi for Botox to treat my crows feet. I'm so glad I went! Danielle is absolutely wonderful at what she does. She made me feel very comfortable while explaining the process. Thank you so much Nabi!
Friendly and professional staff.Amy takes a lot of pride in her work. Tara is always pleasant and knowledgeable. Dr. Mike is patient, knowledgeable and kind. I am a grateful customer.
Dr. Mike is amazing! He takes time to answer questions and doesn't try to push you into treatment that you don't need. He's open and honest with a very gentle hand. I love that Nabi promotes natural looking results. I will definitely be using Dr. Mike and his wonderful team for all of my needs. Thank you again!
I received botox today from Amy and she was fantastic! Wonderful nurse, exceptional social skills, and very professional. The Nabi office was impeccable, extremely clean, upscale and very modern. I highly recommend Amy for any aesthetic needs! Looking forward to my next visit
Dr. Mike is an incredible doctor and injector! He pays such careful attention to the patient's thoughts & concerns and makes an individualized plan. The facilities are brand new and gorgeous and the entire staff is so kind and friendly. I had such an incredible experience here & I can't recommend Nabi more!
Get In Touch
Fill In Wrinkles, Lines, and Lost Volume
If you are suffering from the effects of aging but are not interested in a surgical facelift or another surgical procedure, fillers may be the perfect solution for you. Fillers uncover youthful, voluminous skin without major risks or downtime afterward. There are numerous products on the market today that can help you achieve the results you want. To learn more about fillers or to schedule a consultation, call NABI Medical Aesthetics today to begin your journey to a more youthful look.
Learn More About NABI Medical Aesthetics
About Us